Floor Fountain Fireworks
The most simple firework for those of you who want to go spectacular but want to keep it earthly and still be the center of attention. This kind of firework does not ever leave the ground and it is also absolutely safe and harmless. It can be applied in a variety nof happenings (Party kick-Off, 1st dance, couple's entrance etc) and it can also be synchronized with the music or a specific milestone or part of a song. Due to its flexibility and versatility it can be launched in many different ways or formations (simultaneously or one-by-one) such as at a corridor-like formation, a square, circle etc. It can reach a height up to 3 meters and a duration of approximately 25 seconds.
Dancing On The Clouds
Have you ever imagined the heavenly feeling of a romantic dance on the clouds? And yet this is possible and we can make it happen on YOUR wedding. Thanks to its innovative style and spectacular performance it will certainly extort the best impressions. It is no coincidence that is considered the best seller among all luxury wedding enhancements wolrwide. Its technical implementation is based on the natural phenomenon of vaporization, without any use of chemicals, which means that in no way will affect your breathing or stain your dress or the floor. A dense white cloud of dry ice remains for about 4-5 minutes just a few centimeters from the ground giving the opportunity to your guests to admire it and your photographer the chance to create amazing portraits that will remind you this unique moment forever. It doesn't also trigger any firefighting alarms and of course it doesn't smell at all. It can be applied in both open air or indoor facilities.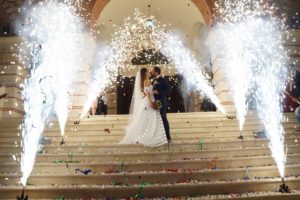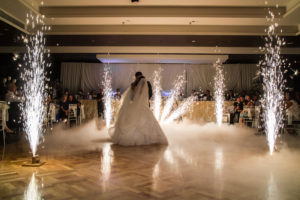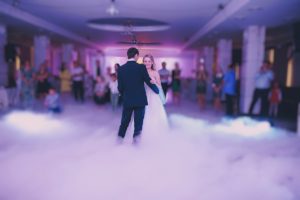 For more information on how to make your reception unique and legendary, contact us and we will be happy to answer any of your questions.